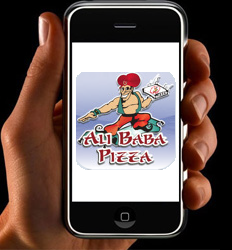 The first Ali Baba's Pizza opened in 1986 when George Murr converted one of his restaurants into a 2-for-1 pizzeria for delivery and take-out. The concept evolved: new, bolder pizza combinations bulked up the menu. Business picked up, and operations became more and more difficult to control.
"Before we installed SpeedLine, I was flying blind," says Mark Murr, George's son and managing partner. "I had no idea what our labor percentage was from hour to hour. I had no idea where our sales were at: I would have had to manually add up all of our deliveries. Before SpeedLine, the information was there, but it was completely out of my reach."
Mark knew that having a point of sale system would help them control their business. He just didn't know the effect would be so great.
Eye-Opening Information
"With SpeedLine, the information we can access at an instant is enlightening," Mark says. "My managers can now make informed decisions regarding labor control as well as food costing with the touch of a button. And the information collected by the POS system helps us deal with customers on a more personal level."
A Model for Growth
The new business intelligence SpeedLine provided helped rev up growth at Ali Baba Pizza. Three more locations opened around town, and a second location that had opened in the early '90s was relocated. "There is no way we could have grown like we have without a POS," Mark says. "We wouldn't have had the control we needed."
Mark and three partners―his dad and two cousins―use SpeedWeb, a SpeedLine mobile reporting tool, to keep an eye on the stores. "We all carry Web-enabled cell phones, and we check SpeedWeb continuously throughout the evening even if we are at home with our families," Mark says, "so there is always an owner available to handle any customer issues."
"Keeping informed when not in the stores is by far my favorite SpeedLine feature," Mark adds. "With SpeedWeb, it's easy to have a quick look at what's happening in the store, no matter where you are. This has liberated me from the office computer."
Mark spends time reviewing performance with his partners in each location. Even though each store functions as an independent business, with an owner/operator steering the course, everyone abides by common standards.
"We gather information and reports from SpeedLine for each store independently," Mark says. "But I have an office in each location. We try to keep things uniform. When we launch new menu items, I create a menu and export it to all the stores. The same is true when we upgrade our SpeedLine system. Sometimes, we use one store to test something new: Right now I am trying a customer survey in one location. But if it is successful after a one-month trial, we'll implement that function in the other stores as well."
In addition, Mark and his partners keep an eye out for new technology options: Ali Baba was one the first SpeedLine users to launch an integrated online ordering Web site in 2006. "We wanted to make sure we were ahead of the trend in town," Mark says. "And because we are using SpeedLine and partnering with Brygid Technologies to provide our online ordering menu, it has been very successful—and flawless."
"Our busiest store handles around 450 online orders a month. I'd say half our online orders are from new customers, and the other half come from current customers who appreciate the convenience."
Read the full story about Mark and Ali Baba's here.